Shoe Shop is a nicely designed and developed mobile application UI Kit developed using Flutter with animations.
Flutter is an open-source mobile application development SDK created by Google and used to develop applications for both Android and iOS devices from a single codebase. It is a cross platform framework that has many advantages such as beautiful interfaces and native experiences.
This UI Kit makes an easy job for developer to have the modern look and feel in the mobile application. Specially, Shoe Shop includes json files with detail models, so it helps developer deploying the backend easily. It saves lots of time to develop a nicely design UI for modern mobile application for store design.
* If you are a developer for E-Commerce or Shopping Store, the shoe shop helps you a lot in UI because it is very detailed and assists you in backend development.
* If you are an investor, Shoe Shop will save you a lot of money in building sales application.
Run on both Android and iOS
UI components of the UI Kit:
Instroduction Screens
Animation Login, Signup Screen
HomeScreen includes : BestSeller Collections, Lastest Collection and Collection for you
Product detail Page : Detail images for each color, Description, Nice Animationd of Check Out.
Search Screen of Product
Cart Page
Personal Page
Payment Screen with multi payments
Shipping Screen
Some screenshots of Shoe Store:
Greeting Screen
Login Screen
Home Screen
Product List
Detail Product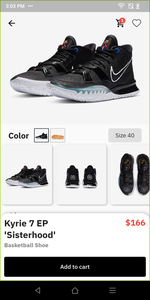 Cart
Address Enter
Payment
Personal Information