About Quizzy
Quizzy is full featured online test and quiz platform built on codeigniter 3, Quizzy is a highly scalable and powerful Online Exam System to manage categories, quizes and multiple choice questions. Prepare candidates to perform extraordinarily with an easy to use highly interactive platform and simplify the assessment cycle. The script comes with quick single step AJAX installer, it includes following features:
Front End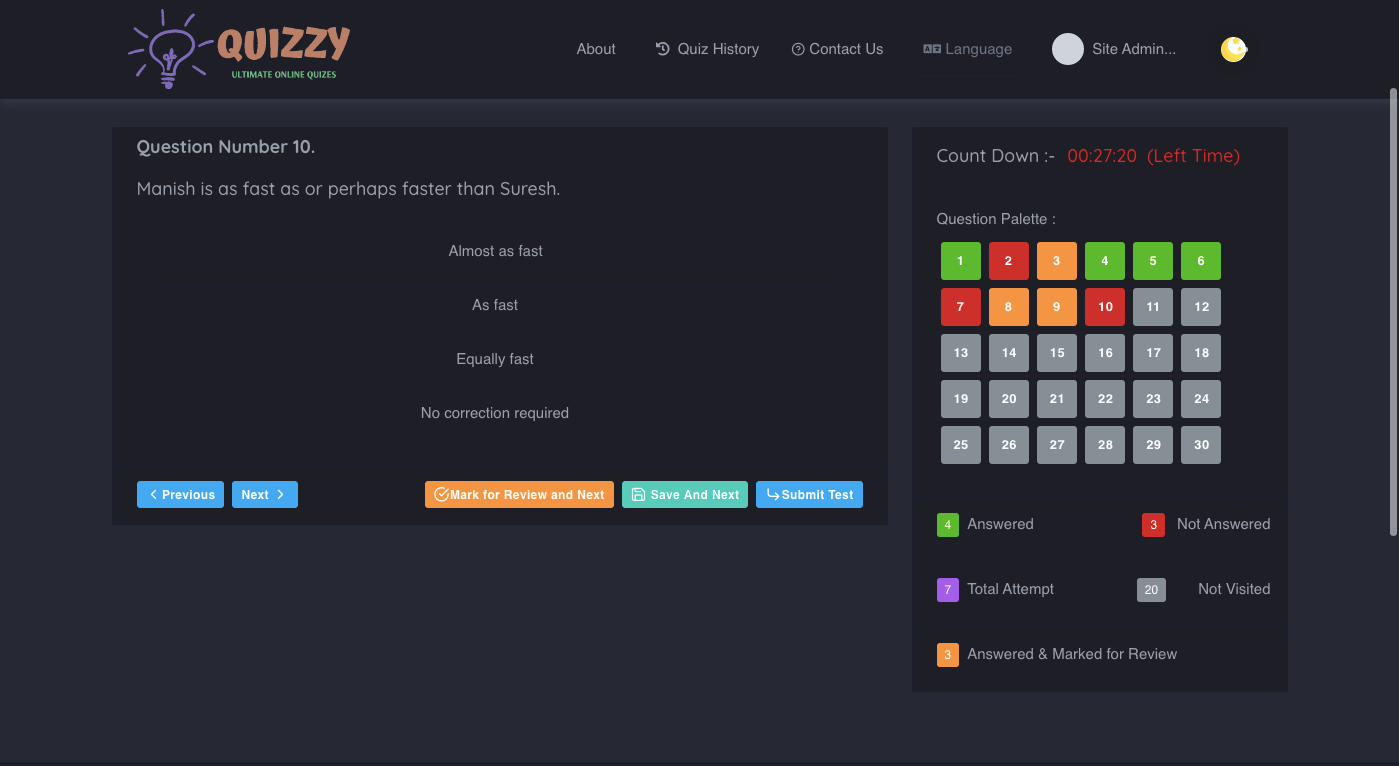 Homepage with categories latest and popular quizes
Light and Dark theme
Testimonials and Partners carousel dynamically managed
Dynamic Navigation in header, 3 and 4 column dynamic footer
List all exams/tests in a category with different sorting
Open quiz for guest users
Fixed and Random quiz
Back End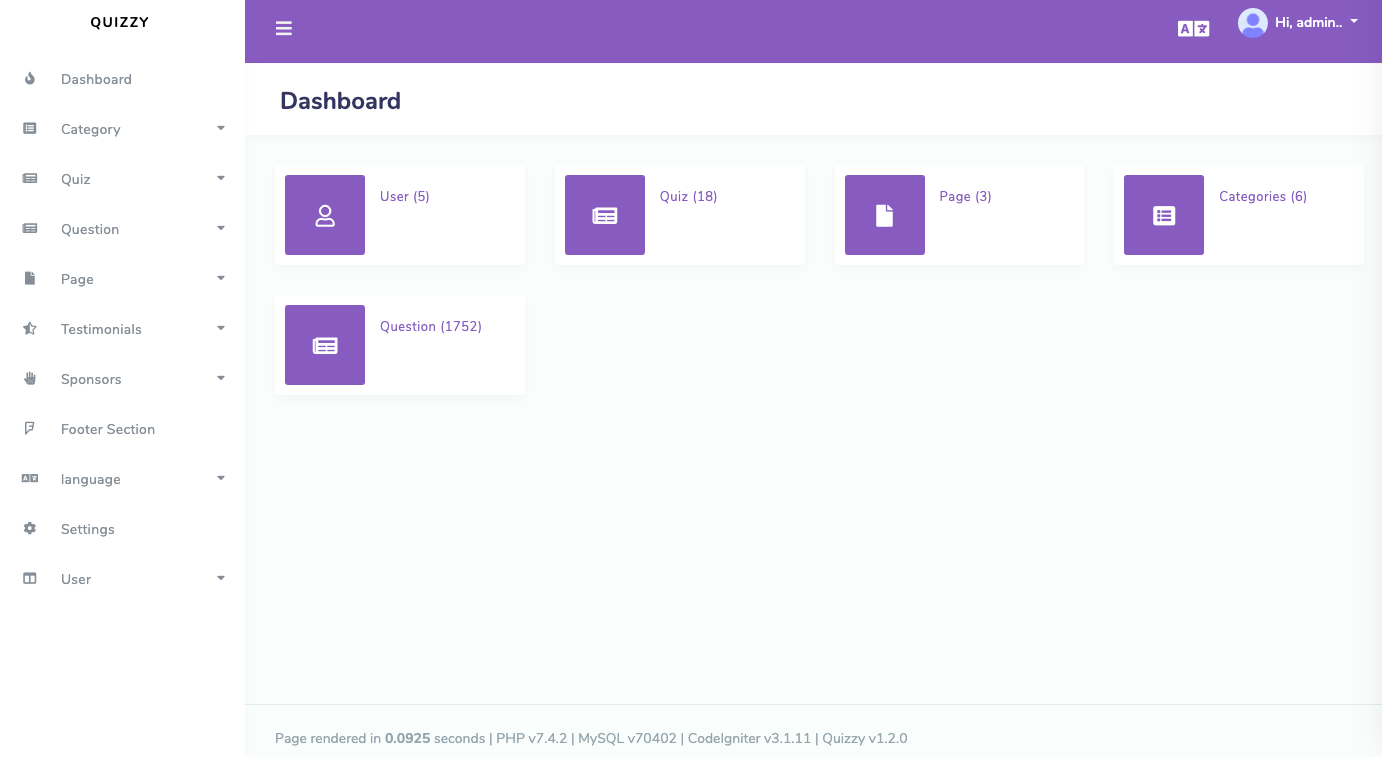 Category
Quiz with copy and bulk Import
Questions
Content Pages
Testimonials
Partners
Dynamic Footer Sections
Multi Language
General Settings
User Management
Common Features
Responsive Design with Bootstrap 4
Optimised code
Ajax based datatables
Super fast page load speed
Demo Details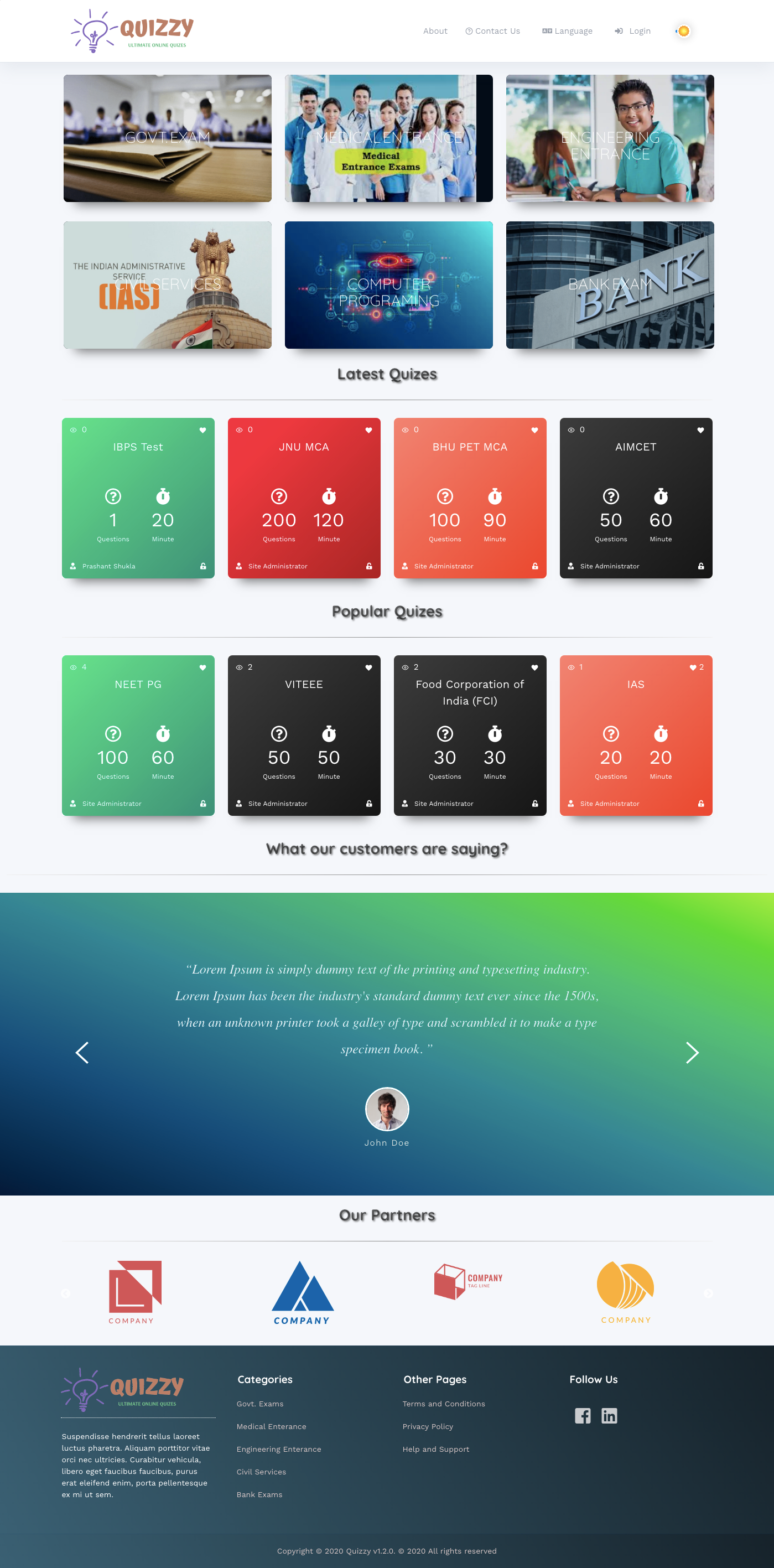 Update Log
Version 3.3 – 24 January, 2021
New Feature
- membership
- evaluation test
- added text editor for question title and solution

Resolved Bugs
- correct version number in admin and front footer
- subcategory disable not working 
- display only base categories on 'all categories' page

Version 3.2 – 20 January, 2021
New features: 
- instamojo payment gateway
- added logo height in admin settings
Bug Resolved
- header/footer js/css now working
- resolved few more bugs

Version 3.1 – 16 January, 2021
- added auto update panel
- divide settings page into sections
- added customizable email templates
- added google recaptcha
- improved quiz list design
- improved blogs list design

Version 2.2 – 12 September, 2020
- added solutions in bulk import
- revolved register confirmation link email
- added attempts integer 
- added parent-child category pages for quiz
- added euro (EUR) in currencies 
- added option to add CMS pages in main menu 
- resolved exam duration issue, it was always 30 min

Version 2.1 – 09 September, 2020
- Resolved some bugs
- Social login from FB and google
- Paid quiz option, with paypal, stripe, razorpay and bank transfer feature
- Blog posts with category
- Quiz detials page added with like and views count 
- Review, rating, comments added on quiz
- Added option in quiz for: make quiz available for registered users only, user can give quiz only once. 

Version 1.2 – 17 August, 2020
- Resolved some bugs
- Added quiz detail page
- Resolved responsive overlay 
- Moved questions, import and reports on admin quiz edit page

Version 1.1 – 12 August, 2020
-  first release!